Because You Don't Need A Degree To Lead Souls To The Cross!
Ministry Ordination Program
* For those called to the ministry of Jesus Christ.
Summer Class – Starts June 20, 2022
Where:
Study is self paced and completed online with onsite practical Workshops at Toronto locations (covid permitting) or online.
$2,499 (all inclusive!)
Includes 10 Months Theological Study
Make up to 8 payments
Self paced Online Study with onsite Workshops
Public ordination on successful completion
HEY .. You Don't Have To Pay Tuition All At Once!
It's only $100 to enroll and reserve your spot in the class. If you are not accepted into the Program it is returned to you immediately.
        <a href="https://form.jotform.com/91263670299263" role="button">
Enroll Now

From Called To Ordained
This Program is sufficient to award ordination as a Christian Minister upon completion. The Ministry Ordination Program is for Christian men and women who have a sincere calling to serve our Lord Jesus Christ. Diligent Biblical study is completed online. The courses are engaging; a comprehensive guide for Spiritual growth. Assessment is completed online and/or onsite by experienced Clergy. Upon successful completion of this Program the graduate will have experienced significant spiritual growth, knowledge, applied wisdom, and pastoral leadership skills which will enable him/her to effectively lead others to the Cross. Our ordained ministers participate in areas of ministry such as pastoral care, street and radio ministry, missions, evangelism, counseling, teaching, writing, marriage and more. If you are called to serve, York St. Peter's Evangelistic Organization will prepare you with Scriptural teaching and the credentials you will need to further the Gospel of Jesus Christ.
Studying The Word From Home (months 1 – 8)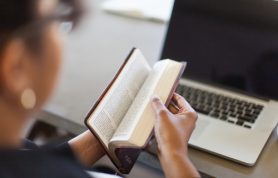 Students engage in 10 months of online Theological study and examination overseen by active Clergy and Instructors. Students will be responsible to develop and manage their study schedules. At the end of each module students will meet with Sr. Clergy by video conference for further discussion and assessment related to the module's content. This Program demands a dedicated study time of at least 1 hr each day with a whole effort to completion. If you cannot put God first and commit time in your schedule to study the Scriptures you will not succeed. The Program is comprehensive and achievable for all Christians who are called to serve. You will be surprised at how much you 'didn't' know!
Workshops & Assessments (month 9)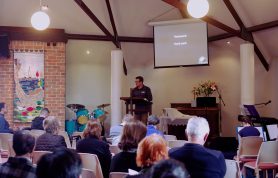 Attendance at the Baptism & Infant Dedication Workshop, and the Holy Communion Workshop is a requirement for all Ministry Students. These onsite/online Workshops are designed to give the Student practical experience and teaching in performing the duties required of a Christian Leader. These Workshops are included in the tuition price. There will be other Workshops throughout the year that you may want to participate in as covid protocols permit. Workshops are a fun, informal environment where we learn together, laugh and dine (great lunches are provided)! We work with you so that upon completion you are knowledgeable and confident in your role as a Christian Minister.
Public Ordination Ceremony (month 10)
This is always an exciting time for all Ministry Ordination Program graduates. The Ordination Ceremony is a public event where those successful graduates will dedicate their lives to the Lord's service, witnessed by family, friends, and the Church. The ceremony is held in a Church location. Candidates must attend their ordination ceremony on the day scheduled. Only there, will a government recognized ordination certificate will be issued to you. Your ordination certificate is issued by the Church, and is recognized World-Wide. Following ordination you may apply to become an Authorized Religious Official who may Solemnize Marriage in Ontario.