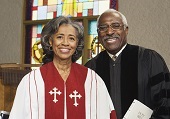 For Those Called To The Miinistry

Ministry Ordination Program
Thank you for your interest in this Program. Please contact us regarding the next Start Date for 2020
This Program is for:
All Christian individuals who believe they have a calling to the ministry, a calling to Preach, Teach and Baptize.
Independent Ministries with no denominational ties that need the backing of a Religious Body for legal ministry credentials and representation to the government to perform marriage in Ontario.
Seminary Students
Bible Study Leaders
Outreach Leaders
Christian Chaplains
Many feel the prompting by the Spirit to witness for Christ. You may be a student, an adult, a senior.. God can call you at any point of your life, at any age and through any circumstance.  Why you in particular? Although the Great Commission is directed to all Christians, some of us have been set apart with special gifts that God wants us to use to His glory. Let Him use you and don't you let anyone tell you that you cannot be a Christian Minister. Lol.. the Almighty already made that determination for you in Matthew 28:18-20. Who is man to go against this? If you are sincere in your calling, question those who try to discourage you. Is it envy, a self righteousness an issue…? With the world's requirements do you think that Jesus himself would be able to become a Christian minister? Not likely! Your only requirement is to FOLLOW JESUS and He will make you something amazing.. He will make you 'Fishers of Men'. What Jesus teaches us and what we do for Him in obedience is what counts, not what any man or woman may think of you for obeying His call.
Know that this one year Program won't give you a Phd or a Masters degree, but it will prepare you with correct Biblical knowledge and the ability to spread the Gospel effectively to all that you encounter in order to guide souls to the Cross, which is something far more precious than anything this world can award you. The content is very comprehensive and upon successful completion of this Program you will be publicly ordained and receive government recognized ministry credentials as an ordained Christian Minister to show that you have studied the Scriptures and are able to represent Jesus Christ to the world in a confident correct and effective manner.
York St. Peter's Evangelistic Organization will take you from called to ordained, but things don't stop there. Once you have taken the vows to serve the Lord your ministry must start and you must continue to study the Scriptures for as long as you have breath in your body.
Warning: This one year Program is not a quick novelty course where you pay your money and receive an ordination certificate at the end. You MUST study the scriptures, and the study is substantial. Much discipline and organization is expected of you to get through this course to ordination. All being said, if you are distracted with work, kids.. and cannot manage your study time of at least 1 hour per day then this course is not for you.  Those who have no desire to study the Bible or are looking for a title, respect, reverence should not enroll.